The process of creating my mosaic art pieces.
Saturday, December 31, 2011
Change the Calendar
I toodled up to the Dollar General at lunch time and bought 2012 calendars.
I needed three. Picked up some nice ones.

I got flowers for the computer room, so I am looking at a nice picture of pansies now.

I also got flowers for the kitchen, so by the refrigerator is a nice photo of camellias.

And for the office outside I got birds, so there is a nice cheerful Blue Jay to start the year.

Plant Daddy and I are going to try to stay up till midnight. Then we will hop in the Chevy and drive out to the south pasture and watch the fireworks from Disney.

We will argue about where to park for the best view.
We will argue whether or not to roll the windows down (mosquitoes are STILL an issue; we've not had any cold weather to knock 'em back).
We will argue about which radio station to tune in to hear the count down.

But at Midnight we will have a smooch and a toast and start the New Year off right.

"Did you bring the Grey Goose?"
"No, I thought you were going to bring it!"
"Sheesh, drive back up to the house. Hurry."
"Yeah, yeah, yeah, quit your barkin'. I'm going.I'm going."

Happy 2012.
Thursday, December 29, 2011
Old Shoes
Well, I finally gave up and went to the mall today and bought a new pair of shoes.
I got my money's worth out of these though, didn't I?
I bought a new pair of Sketchers. Originally $69.99, I got 'em on sale for $39.99.
I thought I could have gotten more off if I had bargained with the manager who was ringing up the sale.
But he was yammerin' away telling me that the Lake Square Mall has been sold and will have a new owner in January.
That explains why so many store today were sporting going out of business sale signs.
I looked for shoes in Sears, but it was too creepy. The store was full of men. No way I was going to go down an aisle and shoe hunt with a bunch of creepy guys. Blech.
But no doubt Sears will be closing at that location and there will be some great bargains. I'll ask Plant Daddy to take me shopping when that happens.
Tuesday, December 27, 2011
Seven Hills Review
So the thing is this here...
I received my clip copy of Seven Hills Review this afternoon.
I right away read my story which tied for First Place.

Then I turned to the back pages to read my Bio.
Oh No!

They did not put my Bio in!

By day, I am a ghost writer. I write non-fiction stuff.
I get paid; others get the publication credits and the glory.

But when it comes to writing fiction, I want my own name on it and I want people to know who I am.

I didn't want to be a ghost...but I guess I still am.
Sigh.
Errands
Yesterday I was up early and hit the road to run to the Post Office.

Oh No!
Post Office was closed.

I toodled over to the bank.

Oh No!
Bank was closed.

At least Publix was open so I could get a loaf of bread and a bottle of TUMS.

Today I get to try the route again...with an added stop at the hardware store to get 150 ft. of chicken wire.
We took out 4 trees and expanded the garden yesterday. Now we have to keep the bunnies out of the next crop of baby cauliflower.
Sunday, December 25, 2011
Happy Christmas Day!
Merry Christmas to All

Little Pastry Chef baked goodies again today.
We had to set the air conditioner on high to balance out the heat.
It is really god awful hot.

She turned out a tasty, puffy salty cheesy thing, which we gobbled up. Yum.
Then she headed back home to start her week.

Plant Daddy and I worked in the greenhouse tossing plants covered with gross disgusting spider mites and also ones with oleander caterpillars.
That overheated us because it is god awful hot, so we came inside and cranked the A/C down colder and rested.

Later we went to the shed and tossed old welding gloves and flower arranging stuff and irrigation supplies and used cans of spray paint, etc.
This got us very hot and thirsty and so we gave up and stayed indoors and napped for the rest of the afternoon…because it is god awful hot.

After dinner we managed to walk a lap for exercise, but it is very hot and humid and there is no breeze at all and the mosquitoes are biting. Bah Humbug!

We are going to stay indoors this evening and watch the NBA.
Double Bah Humbug…but it's hot. What else can you do?

PS.
Candy Cane plus Decaf Coffee = Good
Candy Cane plus Vodka = BAD!
Saturday, December 24, 2011
Smells of Christmas Eve
It smells really really good at our house.
Besides the flower arrangements, Plant Daddy and Little Pastry Chef herself are in the kitchen.
They are baking Blue cheese walnut bread and apple strudel.
Yum.
I see some sort of fancy European butter in there too!
Watch out gall bladder. Here it comes!
Friday, December 23, 2011
Christmas Flowers
Plant Daddy bought me the most gorgeous flower arrangement!
It's fragrant carnations and gerberas and roses and mums. All favorites.
What a beautiful centerpiece.
He also grew those poinsettias!
Started them from cuttings last July.
We are all decorated now for the Christmas Eve feast of lasagne, garlic bread and citrus salad. And this year we have our own pastry chef in charge of desserts.
(Fruit cake? Fruit cake?)
It is hot. About 86 degrees. We are running the air conditioner like crazy just to have it a little cooler.
Wednesday, December 21, 2011
Bones is gone
We tried really hard to protect this cat.
We loved him
So every night at sundown he got his Fancy Feast Salmon Dinner and Friskies and we locked him in the barn overnight...with nightlights and a radio tuned to his favorite smooth jazz station and water and a potty box.
And this morning like every other, Plant Daddy let Bones out at 6:00AM...and he made a bee line towards the east field to catch mice...
And this morning we never saw him again.
We are heart broken.
Monday, December 19, 2011
Pansy wheelbarrow
Not the best picture in the world, but here is a shot of the wheelbarrow I planted full of pansies over the weekend...
Saturday, December 17, 2011
30,000 visitors
This morning, Little Mind Escape checked the Mosaic Mom blog and according to the clicker counter, she became the 30,000th guest. Awww!

Fun Saturday!

This morning I visited some friends I hadn't seen in way too long. They have a Keurig coffee maker, so more visits are coming. Yummy.

I came home for lunch and Plant Daddy and I tore Coleus out of the wheelbarrow planter. Also PD was brave and pulled a fern out of a mosaic pot. It was really rooted in.

Then I went to Lowe's and bought yellow and white pansies to plant in the wheelbarrow and a new fresh fern for the mosaic pot. Came home and got those installed.

Pulled some unproductive broccoli and spent cauliflower out of the side garden. Then harvested onions, peppers, oregano and basil for topping the pizza for supper.

It was 86 degrees today. It's hot. The crickets are chirping, mosquitoes biting, grass growing and trees leafing out. If a freeze comes now, we are doomed. That happened in the 1989 freeze. It was a very hot December, then temps dropped 40 degrees in one day.

That's why I bought pansies today instead of poinsettias…even tho those were on sale.
Friday, December 16, 2011
Candy Cane Coffee
So the thing is this here...
Go buy some Tasters Choice Decaf Instant Coffee Sticks.
Then go buy some small candy canes.
I got mine at Walgreen's yesterday because although I was good about avoiding the CUTE cat house on display, I didn't make it past the Christmas candy display...Anyway...
Add the candy cane into the cup with the dry instant coffee and when you pour the hot water on, the candy cane melts.
You get this delicious sweet peppermint coffee.
And you didn't even have to go to McDonalds or Starbucks and spend a bunch of money.
Wednesday, December 14, 2011
Writers One Flight Up
Writers One Flight Up really IS one flight up.
Today they invited me over and I read one story and one poem.
But I was so terribly embarrassed...I thought their meeting started at Noon and it started at 11:00AM. So I was 40 minutes late. I was angry at myself. Next time I will check beforehand.
While in Mt Dora, I went looking for a kitchenwares shop that used to be there...but no, it is gone. Now I've got to scramble to get a certain pastry chef a spatula!
I also got to wander in to a clothing store and I tried on a jacket...which I liked till I looked at the price tag. Really? That much? Hmmm, No Sale.
Then I got home and had an email from my boss. Except it turned out that his computer had been hacked. So now I've got to take mine in for a purge AGAIN. Darn.
Well, there's a chicken in the oven and a broccoli in the garden, so the day will end on a good note.
Gimme a bottle of wine with that and the evening's set!
Tuesday, December 13, 2011
Good Cat or Bad Cat?
On the one hand, the cat caught a squirrel and killed it.
Yay! One less squirrel.
On the OTHER HAND...the cat dragged said dead squirrel carcass behind the dryer in my newly remodeled laundry room!
GRRRRR!
Get that dead thing OUT NOW!
Monday, December 12, 2011
Car Club
I woke up on Sunday morning, padded to the kitchen for a cup of coffee and looked out the window to the east...
Uh Oh!
It was Plant Daddy's Z Car Club!
And I was out of hot dogs to feed them.
I made a quick decision to dash to Publix for Oscar Meyers and buns and potato chips and pickles and pork n beans and mustard and donuts for dessert. Yay! Yum!
That was a good dinner and definitely the right decision.
Today I made a trek to the Post Office.
It was draconian.
Sometimes I make the very wrong decisions.
Saturday, December 10, 2011
Cat in the BBQ Bag
Like any kid, forget the fancy toys; he'll just play with the bag.
Friday, December 09, 2011
Ham Radio Christmas Gifts
Need some last minute gifts for a Ham Operator on your list?
Check this out...
Here's the
WEB SITE
Thursday, December 08, 2011
Defragged
Hurray, my computer is back from the shop. Defragged and spybots and cookies gone. I think he installed some new anti virus too. Good. Mostly I'm happy because it no longer takes 10 minutes for the machine to wake up and get going.

While I was computerless, I finished reading "Post Office" by Charles Bukowski. I liked it. Similar to Harry Crews...shock for shock's sake, not for the story's sake...but overall fine and I will be reading more Bukowski in the future.

After all these years of enjoying bacon, egg nog, cream cheese, etc...I think my gall bladder is starting to go belly up. Dang. Couldn't this wait till after the holidays?
Well, wait, the problem is the holiday season.
Yesterday for supper I had a ham sandwich with cream cheeze and miracle whip and cucumber. Ouch!

I remember when a big mac set my mom's gall bladder off, so I'll have to be careful. Sigh. No more egg nog and fruitcake for me.
Tuesday, December 06, 2011
Wasteland Movie
Bernie brought me a movie to watch.
It's called Wasteland.
In it an artist named Vik Muniz goes to the dump in Rio de Janiero and works with the recycle pickers to make art.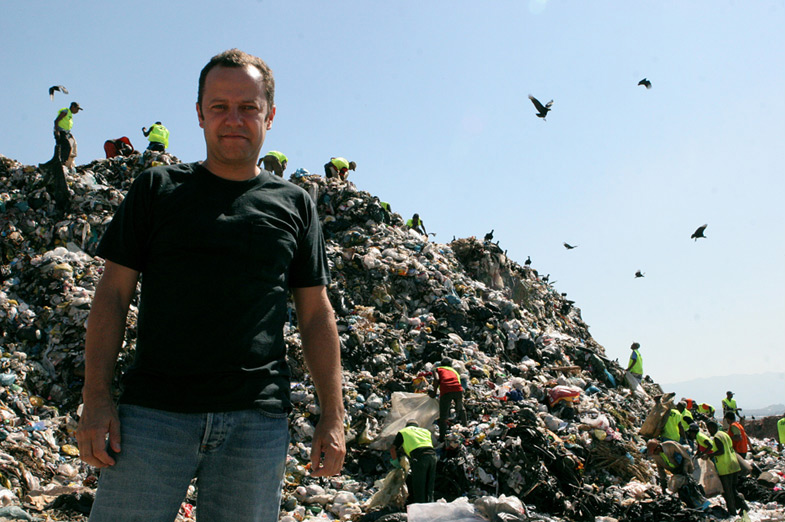 It is all supposed to be "feel good" and look at the noble workers and get involved (at the web site you can buy things to feel like you're connected somehow), or donate,...
But I agree with Muniz's wife who says something to the effect of ..."we get to go back to our home in London and the workers have to go back to the dump and pick garbage".
And that is exactly right.
I think this is just another example of rich liberals exploit the poor. There is nothing romantic or sympathetic about it.
The only thing really fascinating is that you get to see film of the biggest dump in the world.
Monday, December 05, 2011
Green Tufted Cat House
Look, you stupid cat, we paid $25.00 at the fancy pet store for the green velvet cat bed so use it!
(he doesn't like the fancy pancy bed...loves the cheapies from Walmart. Go figure.
Sunday, December 04, 2011
Plaid Kitty House
Bones likes to go underneath the plaid, Walmart, $5.00 Kitty House.
When the cat is in this position, DO NOT, I repeat, DO NOT stick your fingers too close to the edge!
We are hanging out roasting a chicken today.
Bones gets the giblets.
Add mashed potatoes and fresh from the garden green beans.
Also fresh from the garden cucumbers and lettuce for salad.
We planted a dozen more broccoli today and I planted snap pod peas the day before so we can keep the freshness coming!
Saturday, December 03, 2011
Good Kitty
I provide my kitty with fancy cat homes because he earns them.
Here you see he is providing his own play toy.
aka female squirrel trying to nest in the attic! Grrr!
Get 'um.
Good boy.
Another cat cube for you!
Friday, December 02, 2011
Book Signing
The second Writers One Flight Up anthology has arrived!

Books can be purchased at the book fair tomorrow at
WindHorse Center at 353 Plaza Drive,
Eustis, Fl located on Hwy 441 by the Big Lots plaza.
(I'll see you there about 1:00PM)
or locally at Mail-Express in the Gold's Gym plaza at Hwy 441 and Donnelly.
Thursday, December 01, 2011
Cat Hut
It's almost like having a different house for every day of the week.
Yesterday, the stripe house.
Today the blue house.