The process of creating my mosaic art pieces.
Wednesday, May 31, 2006
Mosaic Madness
I was mad today. Mad. Mad. Mad.
First, Florida Cable has still not fixed the cable. It's now 34 days and counting.I call them every couple of days. Today I called the library to find out who to complain to in Lake County Government. The librarians said they couldn't find out. ie, it's too much trouble.
Second, school administrators are giving my friend's daughter a really hard time over a course change for next fall. Ie, it's too much trouble for the counselors to actually help her.
Third, this county employee parked his mower, took his paper towel roll and trotted into the woods right across the street from my house and made a poop and it stinks...as in I can smell it when the breeze blows. ie, it's too much to drive one mile to the Citgo and crap in a commode.
Grrrr!
Maybe tomorrow will be nicer.Unless the wind is blowing from the north again. Grrr!
Sunday, May 28, 2006
Mosaic Mom's Memorial Day
I spent the day on the floor(s)!!

First, I washed the kitchen floor.

Next, I scrubbed the floor in the guest bathroom.

I'd have done the master bathroom floor, but I ran out of floor soap. So…

I vacuumed the house.

I vacuumed the pool.

I weeded both gardens!

I am sunburned from working the pool. I am dirty from weeding and trellising the tomatoes and tearing out the zucchini. I am going to hit the shower now and probably go to bed early!

Happy Holiday!
Saturday, May 27, 2006
Mosaic Bead Class
Here, draped over one of Little Mind Escape's sculptures, is the bracelet I made today in Basic Beading Class.
I learned a lot!
About beading…
1. How to use the crimpers to end a run and attach things.
2. How to compose a basic design in a bead tray
3. Beaded embellishment / sculpture is not the same as beaded jewelry making.
About teaching…
1. Be prepared…beginners don't know left from right or up from down.
2. Be prepared…have enough equipment.
3. Be prepared …if your class is scheduled for 2 hours, you will need additional set up and clean up time.
4. Some students are SLOW (uh, that would be me. I couldn't see the little holes in the little beads worth a hoodly toodly!)
About mosaics…
1. Every hobby has specialized tools that you must acquire if you want to progress in the hobby. $$$$$
2. Nothing is as easy as it looks. Experts make it look easy, but it's not!
The bottom line…
1. I learned how to crimp.
2. I learned I will not take up beading as a hobby.
Thursday, May 25, 2006
Mosaic Mom's Delicious Lunch
Bridgette invited me for lunch today.
This wasn't no tea with the ladies...this was the real deal...lunch with tile contractors!
I had a wonderful time.
Here is the sales rep from Schluter Systems demonstrating installation for the tile guys. He has a fabric that may work for mosaic clothing.
Here are 2 reps from Custom Grout! The guy in the Panama style shirt was a world of info!
Here are executives of Mastertile eating BBQ.
Tuesday, May 23, 2006
A Face like Durock
OK, my complection isn't that bad, but I don't do much for myself with cosmetics. Never had 'em, never will!

The best things in my life have come along when I look my worst, I swear it's true.

Once I was exiting the YMCA, dripping wet from Aquasize class. I ran into a lady and we planned an art program on the spot that served hundreds of school kids over the next 2 years.

Yesterday, I was on the bank run dressed in mosaic casual and I stopped in to show Bridgette the "Killer Shoe". I ran into someone I would have liked to impressed, but there I was in 5 year old shorts and a cheap shirt.

Still, my mosaic shoe created some buzz and maybe he'll like my ideas, and I'd probably choked if I'd tried to dress to impress. So wish me luck. You just never know.

Florida Cable has still not buried the cable under the driveway. It's now 31 days and counting.
Sunday, May 21, 2006
Playing with Tracker
My tracker/counter numbers are down. Time for a boost...

How about these key words...Mosaic Mom makes mosaic flower pots for children with Bissazza, beans,and Hardibacker.
Cardinal Mosaic Stepping Stone
Finished Darlene's stepping stone this afternoon. Man,Oh Man it was hot in the studio. I will get photos , apply sealer, then pack and ship to Oregon. I will install it when we are out for the wedding.

Got 2 of Annabelle's arrangements planted today. The mantle piece arrangements. Each has a tall Pholidendron for center height and lots of purple foliage Setcreseas. Since she wanted a disc instead of a wreath, I put the wreath on the wall of the studio. I like it there! Looks very botanical.

Plant Daddy is behaving and healing nicely. Has not pulled his stitches out yet. 3 days to go.

PD got me a Hoover Floor mate for Mothers Day. That thing cleans good. My 25 year old vinyl floor looks revived.
Saturday, May 20, 2006
Mosaic Skull
This is a co-operative project with one of Little Mind Escape's school friends. Chrissie was going to toss this ceramic skull or maybe put a Philodendron in it, but I snagged it for a mosaic instead.
I knew working INSIDE a small space would be a challenge. I sometimes like challenges better than just making art.
The Blue Bisazza is in Opus Regulatum to symbolize the Left/organized side of the brain.
The right is a mosaic collage to signify the creative unorganized side. There fore I call it...Left Brain/Right Brain/Art Brain...although Chrissie may name it something else. Whatever works!
Floral Mosaics
Once again the mosaic studio has been transformed into a flower shop. I am working 2 mantle arrangements, 2 doorway arrangements and dressing 2 pots of Selloum for Annabelle's wedding.
Unfortunately I couldn't work the giant "disc" centerpiece she wanted. It's just beyond my capabilities. Know when to call a professional!

Annabelle is taking the skull mosaic "Left Brain/Right Brain/Art Brain" to Chrissie at Stetson. I hope she likes it...I hope she sells it and I get a cut of the profits!

The Post Mistress at Tangerine where I mail a lot of stuff got robbed at gunpoint. I really liked her and am soooo sorry this happened to her. This is stirring up my Post Traumatic Stress. I am edgy and angry and jumpy and having sleep problems again. Besides it is hot. Nargh!

Stayed inside and made Squash Bread this afternoon. The house smells like cinnamon. Mmmmmm.
Thursday, May 18, 2006
New Mosaic Shoe
Here's another mosaic shoe called "Killer Shoe"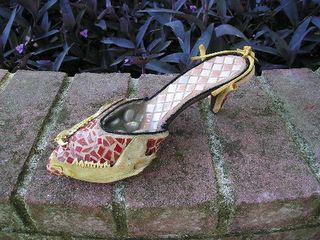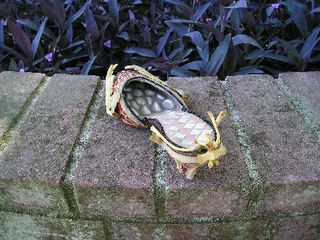 Wednesday, May 17, 2006
Our Day So Far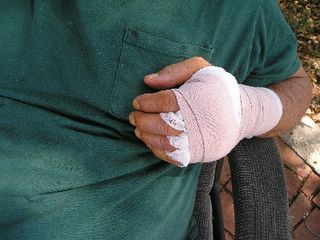 (You will notice that this photo was taken outside. He won't stay on the couch and rest like he's supposed to! Grrrr!) But he's doing great, no pain or swelling.
Tuesday, May 16, 2006
Pray for Plant Daddy
Plant Daddy is having hand surgery tomorrow so toss in some good words for us. Thanks.
Monday, May 15, 2006
Broken Mosaics
As you know, Florida Cable "fixed" my cable problems following a lightning storm on April 22 by stringing a loose cable across my driveway. The crew to bury the cable still has not arrived.

Apparently at Florida Cable HQ, their cable flops across the driveway, too. Their server is balky and E-mail service has been down a couple of days now, so if you need to reach me please use the Mosaic mom address not the residence.

The "Killer" mosaic shoe was so full of problems that I pulled a great deal of it apart and started over this morning. Oh well.

ANd finally the fence people came back to finish the fence repair. Yay!
Sunday, May 14, 2006
Mosaic Mother's Day
What a perfectly awesome day!

Little Mind Escape came home and we ate homemade salsa off of plates she gave me.

Then we left Plant Daddy to mop up the kitchen with some new floor scrubber he bought, and we went shopping to my favorite place...

the tile department in Lowe's.

I bought 2 small cases of American Olean colors that I didn't have (Iris and Maize) and I bought 2 colors of grout (grey and pearl grey).

I also bought catnip for Zeus!

What a perfectly awesome day!
Saturday, May 13, 2006
Mosaic Miracle
Two miracles this week:
1. It rained
2. Someone came out to locate the buried phone line
Notice the Cable TV line still a'floppin' unburied across the driveway! Beyond miracle, that will take an act of God to get the Cable people to come for a service call!
Thursday, May 11, 2006
Jane 2
"What the hell was that?" I gasped. Jane and I startled at the sound of breaking glass.

While John was out for the evening, Jane and I had parked on the rug in front of her fireplace for a game of Scrabble.

"Quiet!" Jane shushed me. Looking towards her back hallway she whispered, "There's been a rapist in the neighborhood."

We were on our feet in an instant. I was pin-prickled with fear, heading towards the front door to escape, but Jane seized my arm. "Follow me," she commanded.

She gripped a fireplace poker and crept along the hallway towards her back bedroom. There were still rustling noises coming from behind the closed bedroom door, as if someone were rifling through drawers.

"John keeps his amplifiers and lighting equipment in there. I'm not going to let some cretin steal it, " she whispered and with that, threw open the bedroom door, poker raised, ready to battle. She was furious and ready to beat the snot out of him while I was only ready to beat a retreat.

Never before had I seen bravery in a woman.

It was born of anger. It was born of confidence. Perhaps it came from growing up with 3 brothers. Burglar or rapist, beware; Jane was ready to pummel any man she found trespassing in her house. She was nobody's victim.

The door swung open; the bare light bulb in the ceiling fixture was already on, revealing a spare bedroom in complete disarray. Once Jane had taken 2 steps inside and investigated the closet, she lowered her weapon.

It was her 2 cats. Playing chase and swat, they had knocked a vase off the windowsill. It was an heirloom shattered; they were in trouble and Jane hurled round after round of "Bad cat! Bad cat!" at them. I could breathe at last, but I knew I dared not laugh. That was still one angry lady.

I stayed till John got home around midnight. He inspected things and another round of "Bad cat! Bad cat!" was flying as I left. We played Scrabble at my apartment or at the office after that.

Many times since in my life, that look in her eye has compelled me forward when I wanted to run away. She taught me to fight back, use my anger, choose action over cowardice. Great role model! Lifelong gift!
Wednesday, May 10, 2006
Jane Stories 1
Jane Barrows created the quilt pictured below. We met in graduate school and had a couple of things in common right away…

Ron Roncadori …don't you love that name? The man should have run a macaroni restaurant, but he was instead a plant pathology professor on our committees….and…

Scrabble…Jane was the fiercest competition in the entire plant science building.

I'd drive over to her house a couple of times a week for Scrabble games. She and John had a house in the northwest area of Athens.

Jane liked fiber arts way back then. She had acquired some (cheap) yarn and crocheted a bath mat. We were playing Scrabble one night when John rushed out of the bathroom wrapped in a towel and still fairly wet from his shower. He looked very anxious.

"My feet are turning blue! I have a disease!" he exclaimed, lifting his soles for our inspection.

We enjoyed a good laugh after figuring out that the dye from the bath mat had bled all over his feet. It took about a week to wear off.
Monday, May 08, 2006
Jane's Quilt
My friend Jane made this quilt....I Love it!!!
Sunday, May 07, 2006
Just Peach-y
Tonight we harvested 5 peaches from our tree. That was the entire crop. Bad drought.

It also tells me something is wrong with the woodpecker population; they usually beat us to the crop. We used to have 3 species around here...Red headed, downy and flickers. I haven't seen any this season, now that I think about it.

It also means there's a racoon shortage or that racoons are staying closer to the lake for water supply. It hasn't rained here significantly since Feb 4th.

Anyway, I sliced the peaches into Grand Marnier and served with ice cream. Yummy!
Saturday, May 06, 2006
Another Fire
Last Week's fire was to our North west. Tonight a fire broke out to the South west of us. We watched the huge plume of smoke about 7PM ish, but they seemed to get it out quickly this time.

I'm not much on photos lately. If you want photos, go visit Plant Daddy.
How now brown Bisazza?
I saw something remarkable this morning. It was so strange, I ran to stare out the window at it. It was ....a cloud! We got no rain out of it, but there it was!

We will reach over 600 on the Drought Scale tomorrow. 600 to 800 is "severe" drought level.

The Killer shoe has a problem that may doom it. I'm not sure whether to stop and take all my work apart and fix it, or press on and hope for the best. Nargh! I don't want the Brown Bisazza to fall off the first time this shoe goes out on display!

While at Publix today I saw a car with "Troup" county license tags so I said "Hey" to the folks and we had a nice chat about Hogansville, LaGrange and West Point. Small world!
Friday, May 05, 2006
Mosaic classes
We are waiting on the legislature to determine next year's public schools start date. That will cascade into the start date for community ed classes. I've already had a few inqueries about fall classes.

I've designed a flower pot for the fall class jazzed up to hold a Christmas Cactus since the fall session will end in November, right before the holidays. I have an idea on a mirror pattern, but I keep thinking a candle tray might be nice too for a holiday theme.

I worked on the new Killer Shoe mosaic today. Need color help from Little Mind Escape. (Heel is too yellow, how to get it pinker?)

The only nice thing about hot weather is drinking iced tea with loads of mint leaves crushed up and added to the pitcher.
Thursday, May 04, 2006
Don't walk away!
Mosaic Ramblings
Florida Craftsmen Assn. sent a call for artists. There's a show in Melbourne you can be in in you are a Florida resident. I might apply, but $25 application fee to get "juried" seems high in my economy.

It's so hot and dry here that the relative humidity is down to 19%. You actually get static electric sparks getting in and out of the car ...wearing COTTON clothes. My eyes, throat and skin burn. The smell of smoke is nauseating. Both I-4 and I-95 were closed yesterday because the smoke from the fires was so bad.

I am pondering the idea of constructing plexi-glass shoe boxes for my mosaic shoes. Then maybe I wouldn't worry quite so much about my shoes "walking off" from shows.
Tuesday, May 02, 2006
Shit Happens Part 1
Now, Mom! you will say.

That is very bad language. Why would you publish words like that!?!

Well, dear readers, NEVER, EVER drive your car behind a truck from SHELLY ENVIRONMENTAL SERVICES! these are also known as "honey wagons". Maybe their motto is "Ain't no smelly with Shelly" but they LIE!

I was following one home this morning and watching blobs of sludge slide out the little trap door. It kind of fascinated me watching this...like an old man randomly dropping klinkers into his pants..

These blobs would splat onto the road and I didn't notice anything bad smelling...until I got out of my car to open my gate. Good Gosh! Those klinkers had splattered onto my car! My car stinks now! P.U.!
Shit Happens Part 2
I am naming names on this one in hopes that a) you don't get hurt and b0 the owners correct the problem before someone does get hurt and sues them.

I went in to Creative Travel in Mt Dora FL today to find about vacations. As my eyes were adjusting to the light, I did not realize that I was on a step.

As I moved forward towards the desk, I stumbled violently and almost fell. I was badly shaken and here as I write this an hour later my neck still hurts.

Watch out! There is a step there! They should get rid of it.

BTW, the lady greeted me then answered a cell call. I left. Walked out. No cruise vacation from that store for me. Bad news.
Monday, May 01, 2006
A view of the fire from the front yard...also note the severity of the pruning Asplundh did to clear the power lines right of way...
A view of the fire out the back yard...