The process of creating my mosaic art pieces.
Monday, October 31, 2005
Now THAT'S Scary!!!
My Halloween so far…

My e-mail box died. It said "Fatal Error". I could not get my mail. Grrr.
I phoned them. They said it was their problem not something I did. I felt better.
But I still didn't have my mail.

My e-bank said my password wouldn't work anymore. Grrr. I phoned them. They said it was my problem. However, they fixed it and I went away happy.

I checked Ian's blog again. He was still not writing. Grrr. I miss Ian. He wrote well and he had a wicked sense of humor. Come back, Ian!

I saw 3 Fox Squirrels cross the east field. In 27 years living here, I have never seen more than 1 Fox Squirrel at a time. This was awesome. I hope they are mating!! And moving in to live here! Grey squirrels bad. Grrr. Fox Squirrels good. Mmmm.

I beat my own record on the treadmill by 20 seconds…Do you think this is good?
Oh Hell No!! I will be crippled for the next three days. Grrr.

Oh Oh! Here comes the scary part...I went to Publix tonight. I had a coupon for Folger's coffee. I get to the coffee aisle and...there ain't no Folgers!!! The sign says..."Temporarily out due to extreme weather"...That means the supply line from New Orleans just ran dry. Yikes...and the other brands were very picked over. GO STOCK UP!

Okay, I'm going to go eat candy now! Bye!
Saturday, October 29, 2005
My Most Memorable Halloweens
Pink Princess…In the 2nd or 3rd grade my Mom sewed me a pink princess gown. She even made me a gold cone shaped hat with a pink scarf draped out of the top of the cone. I totally loved that outfit. I would come home every afternoon after school and wear it. I wore it until I outgrew it. Totally loved the pink princess gown.

Halloween Festival…In the 4th or 5th grade one of the service clubs in LaGrange put on a Halloween Parade and House of Horrors. Sounded exciting, but what it turned out to be was a couple of old ladies dressed as clowns parading down the sidewalk with tooter horns. They stopped in front of Luken Chevrolet Garage, which had been abandoned when the dealership moved out to the highway, and they opened the doors to the haunted house. The "Horrors" consisted of paying 25 cents to feel body parts…you know, greasy spaghetti guts and peeled grape eyeballs.

My Last Halloween as a kid, I was 12 or 13 ish and mostly was designated to escort my sister and her friends through the neighborhood. We got splatted by some delinquent boys tossing eggs from their passing car. Cretins.

Gainesville…I had bought a black shirt with a glitter spider design on it. It was the equivalent of the Pink Princess outfit. I went to a campus outdoor music concert event. The winning outfit at the contest that night was a guy dressed up like a joint.

Athens…I was invited to a costume party in Atlanta. Some fellow showed up with wax drippings all over him. That's all he wore. Another fellow at the party was dressed like a Buddhist monk. Only it wasn't a costume. He really was a Buddhist monk.

Bob and Loretta's Horror Party…Maybe about 1981? …Bob and Loretta had a group over for a costume party/watch horror movies. One of the women there gave Loretta a HORRIBLE insult which I actually do not wish to describe here it was so bad. However a few weeks later, I had the same group over to our house and this same woman insulted me too. Ghastly manners! We stopped socializing with the folks at the office.

Halloweens 1985 to 1995…we sat up late with the shotgun handy lest vandals shred the plastic off our greenhouses. We came to hate Halloween.
Hurricane Wilma Survivor!
Yay! I heard from George today!! They are OK...sort of...Here's his e-mail...

we are ok,no power maybe not for awhile,i am at a local wifi spot,will write
more later,we have store and rsturants with power close by.so we are
fortunate,never seen a storm like it,it was a mother and it is a mess around
here but we are OK! love,george
Friday, October 28, 2005
Mosaic Weather
The weather is perfect, mild in the 70's. I spent hours in the studio today.

All the Bissazza is attached to the Christmas wreath now. I'll give the adhesive a day or 2 to dry then dremel and done! Yay! It's a project I'd really like to sell, so maybe I'll post a photo. Who knows!?!

The country kitchen doo dad mosaic isn't going well. I think I am going to try to attach the Bissazza to the Durrock, then when the whole thing is dry, I'll cut it on the wet saw. I am sick to death of the little edge pieces of Bissazza falling out. Maybe this will solve the problem.

I got a frame painted and will do the finish work on that tomorrow. I got a start on 5 stepping stones. I was asked to give a talk on stepping stones in the spring, so I'm getting the heavy lifting done while the weather's cool.

Harvested beans and tomatoes today. Planted Broccoli!
Thursday, October 27, 2005
Wilma aftermath
I still haven't had word from George and Barb in Ft. Lauderdale since the hurricane. I am assuming no news is good news.But I worry for George because his insulin has to stay cold. The TV reports that that area will be without power for at least 3 weeks.

Zeus was on patrol today and caught a huge rat. He brought it to the back door to show me. "Good Kitty," I said as I opened the door to praise him....and the rat like to got inside! Too much excitement for me!

I hand cut yellow Bissazza this morning. It didn't go well. Grrrr! I'll get the piece together but not as smoothly as I would have hoped.

This afternoon I made 8 pints of cucumber relish! Wow!
Wednesday, October 26, 2005
Mr. Eggplant
This is Mr. Eggplant
He is going for a ride with his friends. Why does he look nervous?
This is why he is nervous...
Tuesday, October 25, 2005
Hurricane Wilma Cleanup
I spent the day cleaning. Sweeping. Flushing out the pool. Processing the backed up pile of laundry. And then for good measure, mucking out the bathroom.

While dusting the living room I came across an anole lizard that had got inside somehow. It took a half an hour to chase him out the open screen door.

Plant Daddy reports that the Research Stations in Ft. Pierce, Ft. Lauderdale, Homestead, Imokalee and Belle Glade have had extensive damage. Ft. Pierce is likely to be closed a long time.They lost their brick and mortar buildings so you can guess that no greenhouses survived. The others will cost the university over $1 million for repairs.

We have heard no reports yet about the nursery industry, citrus, or the vege crop industry yet, but will let you know.
Monday, October 24, 2005
Wilma aftermath
We are fine.

Had a scare last night when the 11 o'clock news said we were in the path of a tornado! Fortunately, that did not materialize.

Lots of rain. Lots of lightning. Today lots of wind and a big surprize...

Usually after a hurricane, it's blistering hot (and no power for Air conditioning makes it worse). Today it's cold. Really really cold. It's supposed to drop into the 40's tonight!

This is so strange.

Anyway we are fine. I spent the afternoon surveying the garden. The tomatoes and eggplants took it on the chin. I opted to mosaic a few things until the cold wind stops blowing.
Sunday, October 23, 2005
Alligator meat
I went over to Publix to buy some Charmin today (see post below). As I swung the cart through the seafood section I noticed a large sign..."ALLIGATOR MEAT $9.99.

I love Alligator meat. I was definitely interested.

So there were pre packed frozen alligator tenderloins About a pound for 10 bucks.
And I'd'a bought 'em too 'cept for one thing...

they were from a farm in Monroesville Louisiana and I was afraid that they might have defrosted on account of Hurricane Katrina.

Now I'm all for cullinary adventure, but eating potentially bad gator meat don't make my short list.
EVACUATE!!!
Q. Do Mosaic Mom and Plant Daddy ever do anything in moderation?

A. Oh hell no!


So did I mention that we received an order of 25 pounds of Beets 2 days ago?

Do you suppose we have eaten beets constantly since then?

Do you understand "evacuate" now ?
Saturday, October 22, 2005
Shipping schedules
At first, I wasn't very happy.

Plant Daddy's birthday present was supposed to be shipped in a way to arrive for his birthday in November.

It arrived yesterday.

However, tonight we ate his birthday present and we were both very happy.
Very happy, indeed.

What did Plant Daddy get?

25 pounds of Beets!


P.S. We did not eat the whole 25 lbs at once. We have a year's supply. Duh!
Friday, October 21, 2005
Citrus Season
It looks like Hurricane Wilma spells doom for the citrus season.

Fruit is pretty near ripe and is heavy now hanging on the trees. Wind is sure to blow the crop right off the branches. That, and there wasn't that much fruit to be had after last years' 4 hurricanes hit the state and damaged the trees.

So I guess I won't be shipping citrus this Christmas. I am sorry and I hope you all aren't too disappointed. But there's just no Florida Fruit this year.
Thursday, October 20, 2005
Hurricane Wilma Lottery
A $340 million Powerball Lottery was won by someone in Oregon. Hey, what's the chance it was one of our relatives?

Meanwhile as fas as Wilma is concerned, we are not expecting much action up here, HOWEVER, we have to watch the news constantly lest the track change and catch us unaware.
Wednesday, October 19, 2005
Back to Basics
Mosaics...I finished grouting a piece yesterday. It felt good except my hands are so weak from sitting out most of the summer.

I have seen a lot of requests for mosaic projects for children. Here's some advice...use pre-made tiles with kids so they don't cut themselves on broken tile edges. When we did the wall over at the high school, we had somebody slice their hand nearly every session. Ceramic edges are razor sharp.

Joe Difiore always said the wet saw won't cut you, but the ceramic edge will.

I gave a mosaic flower pot to the assistant manager of Yard Stop yesterday. She let me photograph her boots for an article I am writing for Florida Gardening Magazine.

I still have to finish the Bissazza Christmas wreath mosaic.

So much to do....
Tuesday, October 18, 2005
No Bluemner trip for me...
I got this message yesterday...

The Bluemner show at the Whitney just opened and is very gorgeous! I'll look
forward to telling you all about it.... The NY Times review concluded: "Miss
this show? Unthinkable."


Well, I guess there'll be no trip for me. It saves me a bunch of money and besides...I don't even own a coat to wear in NY weather.

The only trips I'll be making is Bank...post office...grocery store...bank...post office...grocery store...bank...post office...etc!

Here comes WILMA!
Sunday, October 16, 2005
Oscar Bluemner in NYC
If memory serves me correctly, which, hell, it never does anymore...But I seem to think that there is to be an opening of Oscar Bluemner's work at the Whitney Museum on Nov.2nd.

Stetson sent an e mail Oct 1st asking if anyone was interested in a trip up there for the event. But there's been no word at all since Oct.1st.

Of course I would love a trip like that. I would even sell off my Proctor and Gamble stock to afford the ticket, but I will sit and wait. Grrrr!

Hope I hear something this week.
I can't believe I forgot to take my camera to the wedding and reception last night! Grrr! Well, here's one last look at the centerpieces. The coleus made great fall colors!
Saturday, October 15, 2005
Wedding tables at restaurant
Friday, October 14, 2005
Reception floral
Each place setting gets a 4 inch pot to match the centerpiece
Bridal Luncheon
This is my friend, her daughter and the mother-in-law to be at the eatery in Mt. Dora.
Fix A Flat ? ?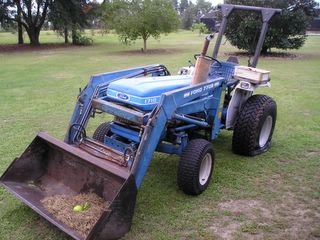 Thursday, October 13, 2005
My mosaic table looks like a floral assembly line.
Palm Writers Group 2
Tonight I went to my second writers group meeting.
It gave me so much to think about, I will have my head up in the clouds for days....thinking about writing, editing, on-line courses, etc.
Here's the link to National Write A Novel in November
NANOWRIMO Month
However, things are not going well on the farm. Plant Daddy no sooner got the mower fixed than the tire blew out on the tractor. It ain't easy getting service for a big tractor since the muck farms closed. Anyway, we think we've got someone coming tomorrow.
And things are not going well with the flowers for the wedding reception. I have not managed to cover the floral foam well enough and it shows through. I am trying sword fern instead of Macho fern in the arrangements. It looks good but does it wilt?
So I'd better get my head back down to Earth cause we have lots of work to do on the farm tomorrow.
Wednesday, October 12, 2005
Hurts so good
I love my treadmill. Have I said that enough times?

I have done over a mile everyday and part of my soul feels restored.

My hip hurts like hell but my soul feels happy.
Tuesday, October 11, 2005
Fall Flowers
This is the week for flowers. As a warm up to the wedding work, I made this just goofing around. It is dried palm fronds. Do you recognize the "birdie"?
Monday, October 10, 2005
Shooooot!
Plant Daddy wanted to help me with my squirrel troubles. He bought me a pump action pellet gun so I could snipe at the little rodents. But here's the problem...

I am not strong enough to pump the pump.

Even if I put it between my feet, I cannot pump the air chamber. Grrrr!

I will lift weights and work out. I will get those pesky varmits yet!

P.S. I am doing good on the treadmill. Have my 1 mile time below 18:00 minutes now!
Sunday, October 09, 2005
A view of our back yard the other evening as Tropical Storm Tammy moved through.
Saturday, October 08, 2005
Gratitude can change your attitude
A squirrel is trying to nest in my laundry room. I saw it squeese into an opening about 3 inches wide and get between the block wall and the tin of the carport roof. I could not believe an animal so big could fit into a space so small, but that was moot.

Squirrel death became the only thing on my mind.

I spread D-Con around the laundry room.

Do not feel sorry for the squirrel. It has 17 acres and could have chosen anywhere else on the property to nest. AND...

If it were to jump out and startle me in the laundry room while I was washing Plant Daddy's undies, we'd'a hafta call the EPA to clean up the Bio hazzard that I would create.

So no sympathy for the rodent, please.

I was stewing on the squirrel situation and not enjoying a lovely day, so I decided to practice my gratitude to turn my day around...

I am greatful that my washer worked today because I have 3 loads to do.
I am greatful today to have gotten chicken out of the freezer for dinner.
I am greatful today that I didn't get stung by the hornets nest in the Pothos vine...

I can't spell greatful/grateful, but I do feel better.
Friday, October 07, 2005
Puttin Along
I love the treadmill we got.

Yesterday it was pouring down rain and I could not possibly have sloshed around walking laps in the field. But I plugged in the treadmill and cranked out a 25 minute hike, nice and dry and AIR CONDITIONED!

Now I must admit that after 4 days of treadmilling everyday, I would be bedridden were it not for Advil and Mountain Dew.

Today Little Mind Escape and I are spending the afternoon at Michael's Craft Store. My friend Suzy went from needing 6 flower arrangements at the wedding reception to needing 10 arrangements. I hope I can still get matching ribbon!

I'm looking forward to having a visit to Godiva for a Pumpkin truffle and also a foaming Lattee coffee thingy at Barnies, too.
Thursday, October 06, 2005
Happy Birthday Sister-Dear
Happy Birthday Sister Dear. Happy Borthday to You woo woo woo!
My poor sister may be sitting in snow on this here birthday. I tried to phone but couldn't reach her. Last night the weather channel was showing film of snow in North Dakota. Brrr.
Light them candles on that cake for warmth!
Thank God you're old! More candles! Warmer!
Wednesday, October 05, 2005
Mosaic Travel Dreams
La Grange High School Class of 1970 sent a flyer/invitation for the 35th (YIKES!) Class Reunion. It might have been nice to go but the price of gas just for a weekend is just too high.

Oscar Bluemner paintings are to be shown at the Whitney Museum in NYC in November. Stetson is trying to organize a group trip.
But yesterday President W said if flu breaks out, he will order troops to enforce a quarantine!!! Yikes...is it safe to travel?

Little Mind Escape's friend was on foreign study in Singapore with Stetson when SARS broke out. She was quarantined!

The Society of American Mosaic Artists Annual Convention was last held in Washington D.C. and will next be held in Chicago. The hotel room rates price me right out of attending.

This travel stuff ain't looking too cheerful at the moment.
Tuesday, October 04, 2005
Plant Daddy is Love
That Plant Daddy is great. Super. Superlative. Awesome.

I knew that when we married two score and six years ago...doesn't that sound presidential and historical...

Yesterday, Plant Daddy bought me a treadmill. That is a risky thing for a man to do. Some women might have gone off..."What do you think? Do you think I'm fat?!? Boo Hoo!"

But I have soooo missed exercising. And Plant Daddy has restored this part of my world that I longed for soooo much.

When my thyroid went kaput, I couldn't run on the treadmill over at the YMCA anymore. It took 4 months for the doctor to figure out what was wrong. It took another year to get the Synthroid dosage set right.

At last I felt peppy enough to treadmill again just a few weeks ago.

I went back to the Y. The air conditioner didn't work...one of the side effects of Synthroid is intolerance to heat...and...as ever...the old fart started exercising next to me.

There can be 20 empty treadmills at the Y and I swear some old man passing gas will choose the one right next to me every time.

I wasn't thrilled about going back to the Y.

So Plant Daddy bought me my own personal treadmill and set it up. We both used it last night and had a ball. We are going to be totally buffy by Christmas.

Thanks, PD.
Monday, October 03, 2005
October the Third
NEVER, EVER, EVER go to a government office on the first Monday of the Month!!!

Why did I forget that?

Why did I show up at the DMV at 1:00PM with everybody in the county in line in front of me?

Then I went to the bank.
I was obviously having brain freeze.

Oh, let's make it worse…I went to the POST OFFICE!!!

And the Pharmacy.
Stupid, stupid, stupid.

Anyway…on the way to the Post Office, I saw a house that had been damaged from Hurricane Jeanne or Francis last year and it was finally being repaired. Yay!

Now if it took a year in Florida 50 miles inland, does that give you perspective about how long cleanup for Katrina and Rita are going to be?
Sunday, October 02, 2005
Bullwinkle Mosaics
"Hey, Rocky, watch me pull a rabbit out of this hat!"
Hey, mosaic fans, watch me turn this packaging material into a mosaic mirror!