The process of creating my mosaic art pieces.
Friday, September 30, 2005
Yay, Uncle Eddie!!!
Uncle Eddie has been a successful E-Bay seller for nearly a decade. So when my books weren't selling over at Amazon, I called him for advice. I followed his advice. It worked!

I sold a book!!!!

My very first book!!!

Yay, Books.
Yay, Uncle Eddie.

Off to the Post Office I go!
Thursday, September 29, 2005
Door Holder
Another mosaic door holder is in progress. I am trying to work around a theme, sort of a Rhapsody in Blue...but how artistic can you claim to be when you're making a door holder...sheesh!

The first Bissazza mosaic Christmas wreath turned out great, so I am making another.You won't see these photos till Christmas though.

Yesterday I got invited to write 4 nature craft articles a year. I started 3 non mosaic crafts...A wire Christmas tree, an angel out of natural Florida materials and a candle holder.

It's a lot of fun but I have to be careful to keep my desk clear to work flowers soon. The wedding is Oct 15th!
Wednesday, September 28, 2005
School Bus Blues
Helluva week to be a school bus rider in Lake County.

First there was the incident where the boys ripped the girl's shirt off and groped her while they photographed it...

Next we had a 15 year old pulling the pants off a 7 year old and pinching his privates...

NOW we have yet another headline...One boy has stabbed another boy on the bus down at Clermont.

It's depressing.
Tuesday, September 27, 2005
Clarifications and additions
The anniversary for the Summerall murder is Sept 29th, not today, but the incident at Tavares Middle School yesterday made me think of it.

The sheriff cars were apparently rushing to a wreck at 19 and the turnpike where an SUV hit a mushroom farm truck. It was not Tavares Middle School this time.

The news tonight said a 15 year old boy on a Milestones Charter School bus pulled the pants off a 2nd grade boy today and pinched his genitals. What the hell is going on???!!!
10th Anniversary of Joey Summerall's Death
Standing in my driveway this morning as two Sheriff cruisers flashed by with lights and sirens wailing, I couldn't help but think,"Lord, Tavares Middle School again!"

The school made lead story news yesterday. Four "youths" (since when do 14 year olds have beards?)...Four boys pulled a girl's shirt off and photographed her assault over the cell phones as they groped her.

It was 10 years ago this week that Joey Summerall was shot and killed on that campus. It changed my daughter's life forever...Here was the essay she wrote about the experience...

The Blue Ribbon

In the fall of my seventh grade year at Tavares Middle School, Keith Johnson shot and killed Joey Summeral during first period class change. A month later, a maintenance worker suffered a heart attack and died on campus. At Christmas break, a sixth grade student committed suicide. That spring, an accidental electrocution took the life of an eighth grader. The atmosphere of school that year was tense and uncomfortable. I felt at ease, though.
In the fall of my seventh grade year, I won first place in the Lake County Public Schools Curriculum Fair for a mixed media art piece. Although it does not seem like a life changing event, for me it was. It was one of the most important accomplishments that I would ever achieve. Because of that one small award, I found art.
With art I had a way to let out all of the stress and to express myself in a constructive way. Someone was always crying in class. Students were constantly being sent to speak with guidance counselors. While others fell apart, I grew stronger. Art gave me a focus and a way to discover myself. I would take the bright colors of the paints, markers, and pastels and create a picture of a world where everything, for at least that one moment, was perfect. I could bring light and joy into a time of sadness and unrest.
I never gave much thought to art before that day. I went to my art class and drew pictures. When my art teacher wanted to put some of my work in an upcoming show, I agreed, not expecting much to happen. A week later, the announcement was made that the blue ribbon was mine. I began to consider that I might have the potential to succeed in the arts. I grew more serious about my art studies and began to discover all of the wonderful things that art brings with it. I could bring beauty to the world and to others. I found a way of release and expression and most importantly, I had found a way into a community of unique people who inspired me to connect with society.
By the end of eighth grade, I said good-bye to Tavares Middle School with five ribbons from various shows. I had a high self-esteem level and a feeling of accomplishment at everything I did. Art inspired me to do better in all areas of my school work which also helped to raise my self-esteem. I began to look at art as possible career goal and I started to get even more serious about it when I entered high school.
I got involved in the National Art Honor Society as soon as I could and a year later, I was elected president. The club was an inspiration. Through club activities, I became involved in numerous community events. I went to every art show opening, portfolio review, and fundraiser possible. We helped out at Tavares Elementary School, teaching art to third graders. Gaining confidence, I branched out on my own by volunteering at the local public library. There I helped to create crafts projects for little kids, design bulletin boards and repair book jackets. I met new and wonderful people who helped me to develop my talent and inspired me to work hard. People in the community began to recognize my name and my work.
Art has helped me to express my emotions in a time of turmoil, to develop my self-esteem, and has inspired me to get involved within my community. If I had never won that one small blue ribbon, however, I don't know where I would be today. Art has become my life. I know that this is going to be my future career. My goal is to complete a college degree in Fine Arts, then obtain a Masters degree in Fine Arts. I will seek opportunity to study abroad but ultimately the road will lead me home so that I can give back to the community and schools that inaugurated my art talent.
Monday, September 26, 2005
Housework update
Since it is hot again today...mid 90's and heat index over 100...I am staying inside and using my time for house cleaning. Blech! I haven't deep cleaned since Mother-in-law came for a visit in April.

So today I have scoured and scrubbed. Dusted and purged. Mopped and vacuumed.

Something is wrong with the Hoover. I get a shock through the handle. It has happened a couple of times now. I hate to think about buying a new one, but I don't want to end up as a headline...

"Housewife zapped by killer vacuum. Details at eleven..."
Sunday, September 25, 2005
Firing on all cylinders
Mosaics...cleaned out a garbage can load of scraps I've been hoarding forever. I ain't gonna attract students (who would use small pieces) with my charm and pleasant personality and every piece of tile ain't gold that I'll need someday...so out went a bucket of scrap.

Amazon book selling...I'm up to 12 listings! Whoo hoo! I phoned my Uncle Eddie today who told me to post a few more items than one a day...duh!That's why he's a pro seller on e-bay and I'm saleless so far.

Horticulture...got the wisteria pruned for the season. We're harvesting cucumbers! No tomatoes yet, but soon, soon.

Writer's Club...I have not received manuscripts to edit yet, but hey, it's new for me. Plant Daddy brought home a few files for me to re-write for him this week.

Housework...Don't even go there...
Saturday, September 24, 2005
Less Mess
Yesterday evening, I indulged in one of my guilty pleasures…I went for a "Can Walk".
I took my pick-up stick and my recycled grocery bag, and I walked along the side of the highway picking up aluminum cans. I didn't get very many cans last night. The count was way down, but I noticed some things…
Overall, there is less litter. Because of the high gas prices, leisure driving is down. Because leisure driving is down, litter is down. My roadway is cleaner.
No bank statements, porn, or court papers. No homework thrown out the school bus windows. No cigarettes or knives. No clothes or towels.
All I spotted was a shower cap! One carry-out Styrofoam clam shell food tray. And some pallet wrap plastic.
Last night's aluminum haul was more caffeine than alcohol.
The dead carcass was a coyote; that's unusual. But it's surely a good thing from Zeus' point of view.
Friday, September 23, 2005
More Bridal flowers
Mosaic Limerick
I can't think of nothin' to blog.
My mind is just all in a fog.
So I think that I'll play
On my wet saw today
Then later I'll go for a jog.
Thursday, September 22, 2005
Mosaic Equinox
My mosaic studio today looks more like a flower shop. Getting some preliminary ideas for Jeanine and Antony's wedding florals.
Mosaic Barn
This is the back view of the mosaic barn
Wednesday, September 21, 2005
YIKES!
Oh My God! What have I done??!!??

I have just registered and am selling used books over at Amazon.com.

I have a library of over 1200 books. I am going to clear out some shelf space!

I am having a panic attack about all the computer viruses and spyware and hackers that are going to come attack me now...but I think I'll get over that shortly. Like I think I'll go dye my hair now then eat lunch.
Tuesday, September 20, 2005
Mosaic Barn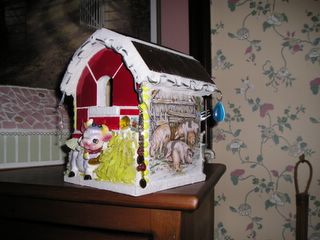 Soviet Bloc
Last summer, I read Anna Karenina. Leo Tolstoy.

I noticed was that there were "magazines" within the novel.

For example:

Levin has a dialogue with Stephen about agriculture as basis for national wealth. This dialogue could have been lifted from last week's Business Weekly magazine.

Vronsky's discussion of extending representative government to the serfs could be right out of current US News and World Report.

Kitty tells us in detail how to make raspberry jelly and preserve canned goods for winter. Are we reading Better Homes and Gardens? Country Living?

While reading the details of Kitty and Levin's wedding, I was reminded of Town and Country magazine. Or People magazine.


O.K. This kinda makes sense because in the mid to late 1800's when Tolstoy wrote this, novels were widely read. Anna Karenina brought the reader up to date with ideas and fashion.
Magazines had yet to become a popular genre.


My style of writing is magazine format. Condense it. Use action verbs. Follow the formula. Make it marketable.

So how would my style fit in with a group of people who write fiction and are good at it? Or how would you blend a poet, a fantasy writer, a news reporter, a blogger, an historian…How do you blend a diverse group of writers?

Suggestion one: the Anna Karenina format…a fictional story line with "magazine" insertions.
Stone Soup
Making a Soup out of Multiple Ingredients

An Anthology doesn't blend.

A Cook Book does.

So maybe the cook book is divided into 3 sections:
Fast Food.
Home Cookin' and
Special Occasions

And everybody has to include an essay or a story or a poem with each recipe.
The stories and writings are very satisfying and get repeated every time the recipe gets used.

I like cook book idea because cook book is useful. Useful and practical and marketable are keywords to describe me.
Cans and combs and gutter junk
Have you ever picked something out of the gutter and wondered how it got there?
Who owned it?
Was it lost? Was it discarded? Had it been stolen and concealed ?
Was it valuable? Did you keep it? Sell it? Eat it? Give it away?


This is a way in which a group of writers can contribute to a whole each in their own fashion and style.
We could also invite artists and photographers in.
Big Wheel Keeps on Turning
At one point I considered that every writer at the table had a disaster story, a survivor story, a war story to tell.

Our daughter was at Tavares Middle School when Keith Johnson shot Joey Summerall. Our close business friends survived Andrew. Other friends were caught in the tsunami last year. We have friends caught up in Katrina now.

But I think this is about to be a crowded genre. I think we're about to see a flurry of press regarding survivorship and social issues and hero stories.

While it was sensational last week, I'm already flowing on past an interest in this.
Monday, September 19, 2005
Rx,Px,Sx
Running the errands route today. First off to the Doctor's office to get a new prescription (Rx). The thyroid levels are off the charts again so we boost the dose.

Then to Publix (px) for Red beans, salad in a bag and of course, Bananas. ooops! Plant Daddy wanted me to get the Buy 1 Get 1 Free Deal on the Breyers Ice Cream. I may have to go back this evening on an ice cream run.

Next to Simplex (Sx). I bought a security thingy for Mind Escape's patio door. I like secure!

I am going to stay inside the rest of the day. It's in the mid 90's and very humid as Hurricane Rita passes to our south and Hurricane Phillipe passes to our east.
Saturday, September 17, 2005
Terrazzo
The house I grew up in had carpet.

Penny Robinson's house had terrazzo floors.

In the summertime we ran the air conditioner 24/7. But Penny's house always felt cool and they hardly ever ran the AC. Even on the hottest days, just a ceiling fan sufficed.

There was heavy shade from tulip poplar trees. You stood in the living room and looked south out a wall of glass towards the backyard creek. It was dark and peaceful.

The house was probably cold in the winter, but it's September, it's Florida, it's 94 degrees today. I am remembering the cool thank you very much!

Suzy Turner's house had terrazzo floors, but that house was always toasty.

Their lot had high pine trees and not much shade. The house was basically a square that framed a courtyard. All that glass around that courtyard acted like a greenhouse and drew the heat right in. They ran the AC even in winter I think.

When I went to college in Gainesville, I had 6 addresses in 3 years.

The dorm …421 Graham Hall,

The house with the nursing student who quit school so I rented her room to the surfer boys from Melbourne who woke the neighborhood up at 4 AM to get to the coast early

The one bedroom apartment with the peeping landlord

The one bedroom in the nasty complex

The one bedroom in the brand new complex

The one bedroom in the quadruplex that had…Terrazzo floors …and a glass wall facing south and I stayed there just over a year. It was cool and I hardly ever had to run the air.
Friday, September 16, 2005
SAMA news
Yesterday's mail brought an invitation from the Society of American Mosaic Artists to submit slides for a mosaic art show. This will be in conjunction with their convention to be held in Chicago next March.

I could never dream of being accepted. Hell, I can't dream of affording the cost of the convention. But if anyone wants the application, I didn't throw it away yet. Let me know and I'll send it to you.
Thursday, September 15, 2005
Failed the Test
So the phone rings and it's the Doctor's office.

If THEY phone YOU , it's never good news.

"So, I flunked my PAP, right?"

"No, you flunked your thyroid. Get in here."

So, Monday I have some cheer to look forward to.
Wednesday, September 14, 2005
Sun Van
This was another of the Art Cars from Mt Dora this summer. I really liked the bumper on this van. It was made out of polished glass.
Tuesday, September 13, 2005
Meterarie Louisiana Friends OK!
Here's their e-mail...just received...

We did fine. But many of my nieces, nephews and friends have lost everything!
All are alive and well, but not the dogs. Our home did not get any water and
we just returned home today after staying at my sister's retirement home in
Franklinton La. Thanks for the kind offer and prayers!
Pearlie & June .........Ginger too! (our dog)
The Winner
Yesterday's paper said this car was the first prize winner in the art car show.
Monday, September 12, 2005
Doctors...Grrrr....
My cousin-in-law and I both had doctors' appointments this afternoon.
He was in Dallas in the specialist's office. They said, "You are doing fine. Come next week for a fancy test." He went home happy.
I, on the other hand, was having the annual girlie test. I was not happy.
I got my feet in the feet holders and I'm scootin' down when suddenly I cry out, "Oh gosh golly, my left thigh is cramping."
And the doctor, being a gentle soul, reaches over and adjusts the foot holder thingy.
At the release of the pressure on my ankle, my knee pops.
It is not a delicate, dainty pop. No, it sounds more like a blow out on an 18 wheeler on I-4. A huge ka-pow!
Before she can stop herself, the nurse guffaws. And I am laughing and ,lo and behold, old doc hisself is grinning. We is all getting up there in years and this annual exam ain't no pretty picture on anybody's canvas.
Unless the blood work comes back with bad pronouncement on the thyroid levels, I have passed the annual and am healthy. I snagged a prescription for a year's worth of Synthroid, not just 6 months, so I feel really free.
No more doctors for a whole year unless I have another accident cutting Durock or electrocuting myself with the water pump or falling off the step ladder. Grrrr.
A photo of a mosaic application onto metal using Bissazza
Sunday, September 11, 2005
Fall Gardening '05
Yesterday afternoon I planted 5 cucumber plantlets and 2 standard eggplants. Only 2 of the Ichiban eggplants germinated and they have to grow a little bigger before I can transplant them outside.

The tomatoes I put in last week are going great. I may have fruit by next week.

I had planted Cherokee Wax beans and Contender green beans before Hurricane Ophelia set to with a week of rainy, cloudy weather. The beans had germinated and produced lush green first leaves. Yesterday however was intensely sunny and the seedlings sunburned. They'll out grow it, but it's a set back.

For the first time in my life, I failed to germinate sprouts. I used alfalfa sprouts that had been sitting around here God knows how long. I didn't recognize the name of the seed company even it's been so long. Then I couldn't find a quart jar...for some reason I have given them all away!...so I tried using my measuring cup. Because of the wide mouth, the seeds dried out every night and died. After 3 days they were slimy and smelled so I tossed them.

This is the time of year I crave fresh harvest from the garden and there just isn't anything green to eat!
Saturday, September 10, 2005
My Wet Saw
Love My Wet Saw!
I love my wet saw. I totally love my wet saw.

Every night when I close up the studio, I whisper a little prayer…"Please, God, don't let no burglars take my wet saw".

I know this is a futile prayer because last time we were burgled, they took everything right down to my clothes out of my closet. But I try.

I also pray every night, "Please, God, don't let no coyotes eat my cat."

Every morning I am delighted to open the door and see my bright yellow saw and hear "Meow! Feed me!"

I washed my baby yesterday. The wet saw, not the cat…you think I'm stupid?

I had not used the saw in so many weeks that it was dry. Usually I use it every day so it stays wet and I only empty the pan and wash it when the chunks of broken tile on the bottom scrape my knuckles.

I took this opportunity of dryness to take a stiff bristle brush and scrape out all the corners on the frame. I'm not happy about the amount of rust I saw, but Plant Daddy can fix it if the rails rust through.

The water pump was cemented, so I cleaned it with a brass brush. I almost killed myself once with the water pump. You must UNPLUG it when you are cleaning it! Duh!

I got it all put back together, shiny, clean, added water…and then had to suck the water through the tubing to resuscitate the pump. As a nurserywoman, I had to apply my lips to blow algae out of the mist heads when they would plug up. I got a little macho kick out of blowing out the wet saw pump.

Then I sliced up the Durock, which you are saying, "Why didn't you just cut that by hand?"
"Well, because I was slicing ½ inch off a scrap and I needed a clean cut. So it was either wet saw it or spend time with the grind stone polishing a jagged hand cut."

I was filthy with gypsum and clay. My nose was plugged up. But after months of being sidelined by the heat, I was back in the studio with a project underway. I headed off for a shower, happy to be back in the saddle again.
Friday, September 09, 2005
Good News from Pedro!
Pedro's friend Kaleena is from Slidell, Louisiana. Here's their Hurricane Katrina storm story...

"...thank you very much for the e-mail. Thankfully Kaleena and her family are well. Her family left before the hurricane hit. Right now they're staying with me and Kaleena in our house. Her dad left today to go to slidell to check on there house. The word from thier neighbors is that the house is okay and that amazingly there was no flood damage to their home. We also heard from our friends who live in small town inland about 40 minutes. the name of the town is bogalusa(or bogaloosa?). It was over a week before any one heard from them, so it was good to know that they were okay, and the house was fine also that they were staying in. If we can do anything for your friends also, let us know."
Mom checks out the possibility of joining a writer's group
"No," said Frank, massaging mousse between his palms," I've never been in a writer's group. But I cut hair for a lady who was in one. She told me they wrote a mystery novel together. Each person wrote one chapter and there were 13 members so they thought that was a sign for their success."

Despite the fluffy up-do Frank was styling on my head, I felt pretty punk the rest of the afternoon. I don't read mysteries. I want my fiction straight. Just give me a shot of Nabakov, neat. I hoped this group wouldn't be a bunch of Sue Grafton groupies.

I drove to the library after supper not expecting anyone to be there because who actually makes an effort to come out of their houses these days? Mais, no! Five people were already there, I made 6, and 3 late-comers made 9! This was huge.

We were seated in the kiddie section of the library. This was good mojo as far as I was concerned. Some of the best groups I've ever joined sat on those mini chairs.

The format was editorial. Members had been e-mailed text to review and group time was given to thoughtful commentary. This was about making writing better. This was about word crafting on a regular schedule. This was the whole milieu of creating, editing, publishing, teaching, sharing. This was hog heaven. I was hooked by the come home bone and then the leader said…

"Let's all write a book together. Everybody can do a chapter." And my heart sunk.
I drove home wondering what would be decided about the group project.

The meeting turned over and over in my head until I fell asleep last night. There was so much positive in that group and only my own negative holding me back. What to do?

When I woke up this morning, my bathroom mirror, mirror on the wall told me all my tossing and turning over this writers group thing had cost me. My expensive Frank hair-do was a disaster. Disaster!

That's it! Disaster!

Everybody in that group has been touched by disaster. Those guys at the east end of the table had all been in war. All of us had lived through earthquakes, bombings, tsunamis, car crashes. Touched directly or touched by television. There was something that despite diverse writing style, we all had in common. And it might even have broad appeal and commercial interest.

As if with my shyness, I could ever make a proposal to a group.
Thursday, September 08, 2005
Divorce Imminent
Did you all know Mosaic Mom is about to be divorced?

Well, if Plant Daddy tests his chum mixtures in the swimming pool this weekend that will do it!!!!GRRRRRRR!!!!!
Move Indoors
In search of a hobby that will keep me indoors, keep me cleaner and maybe make me a little money once in a while, I am attending a writers group meeting tonight. Maybe that will work out in an interesting way.

The F drive thingy is still broken but we can work around it. We make a Zip copy, take it to another computer then burn a CD off the Zip. It works for now.

I bought a bag of clay red colored grout. I left the window open in the studio and the rain from Ophelia blew in. The grout is ruined. Bummer. There goes $6.00.
Wednesday, September 07, 2005
Mosaic studio
In the mosaic studio, things are picking up now that the weather is cooler.
I am finishing the "Red Barn". I am working on the mosaic Christmas Tree. I have made a quick little Christmas wreath. I have a form prepared for a mirror that could go in the Christmas sale if I could get it made. However...

despite screen doors, I am swatting mosquitoes like crazy!
Repair! Repair! Repair!
Yesterday Plant Daddy and I took my Nissan to the CAR REPAIR shop. The water pump was a yippin'. We picked it up this morning and returned home to find workers in our yard.

The FENCE REPAIR folks were at work. We are having the panel fence inset off the road so the dumpster man can get his truck in here easierly.

Tomorrow, no blog likely since the Dell here has to go for COMPUTER REPAIR. The "F" drive thingy won't copy, so off it goes to its shop.

Meanwhile all us Floridians are a little concerned about Tropical Storm Ophelia...
Monday, September 05, 2005
Gas Prices
Vigilance
Today is cool and cloudy. It will be a great day to work in the mosaic studio then have a Labor Day BBQ.

The downside to this is, it is cloudy and cool because there's a huge low pressure center forming just to the east. Could it be another tropical storm? Must listen to the weather reports all day. Be ready to ditch mosaics and start hurricane preps.

The good news about barbecuing is that it will save energy. There was an ad in the newspaper this morning from our power company. They say they are low on natural gas to burn for electricity so could we all please conserve? Yikes!
Saturday, September 03, 2005
Boo Hiss
This being the 55th day in a row of temperatures over 90 degrees (and this afternoon was a scorcher), Plant Daddy and I settled down in front of the TV/DVD to watch a movie.

We picked "Terminal" the one where Tom Hanks gets stuck inside the airport and can't get into New York because of a passport glitch. Well, it was a bad movie. Bad stinky. Rip off. Don't rent it. Don't go see it. They used Tom Hanks' name to lure you in and the movie is really really bad.
Friday, September 02, 2005
Friends Found!
Our friends have been located at Franklinton LA. No details yet but we are so glad to hear they're safe!

If you wish to contribute, we have a friend in the FL panhandle who runs a business that employees about 150 people. The employees' relatives are coming in as refugees. Our friend says the greatest need is money for housing. We are sending him a check today. If you want to send money to me I will forward it to him. Thanks.
Thursday, September 01, 2005
Stay Home and Grow A Garden
No word yet from Jimmy and June. Keep praying everybody.

Also I would like to hear that Kolina and her folks are OK. I am assuming they evacuated? but may have property damage?

I need Jenn's snail mail address. I have a great magazine article on snake research at UGA to send.

Denise came by for a visit yesterday!!! She is graduated from UF and now is working at a pet resort and starting negotiations to be part owner of the business. Ted is certified in heavy machinery operations and is making great pay in construction.

Neppy volunteered to go with a Home Depot team for a clean up mission to the hurricane zone. I'll post that when the dates are established.

I planted the fall garden tonight. Green and yellow beans, eggplant, bell peppers, cukes, onions, and tomatoes. With the price of gas at $2.89/gal for regular today, I need to eliminate trips to Publix!