The process of creating my mosaic art pieces.
Wednesday, June 29, 2005
Brett
Tropical Storm Brett is way over at the other side of the Gulf of Mexico, but the clouds and rain extend all the way over us. In other words, it's going to rain again today.

I have to make a quick post office run then I will settle down and spend the rest of the day cracking Bissazza for the mosaic Christmas tree. The mosaic Christmas tree eats Bissazza and mastic.

Mr. Smoker, a mosaic face, is done all the way to the forehead. Then I have to figure out how to mosaic a cigarette. Any suggestions?
Monday, June 27, 2005
It ain't me, but it's free...
I have not inserted the huge space between the title and the text on these blogs. The Blogger program has messed something up. But Blogger is free, and I find that if I wait, a lot of these problems just resolve themselves. Like some techie somewhere figures it out and makes it right.

The mosaic Christmas tree is started! Yay!
Sunday, June 26, 2005
No C for Me
I wanted some chewable Vitamin C tablets so this afternoon I popped into the health store at the mall. Usually I just pick up whatever is handy at Publix, but today this was the handy way out. Oh wrong, Farfel.

There were 2 customers ahead of me before the shop girl directed me to 2 flavors of C tablets. I selected standard orange, standard potency. We headed to check out.

"That'll be $4.87." she said.

I handed over a $20.00.

"Do you have anything smaller?" she said. "I'm short on change because everybody's been giving me big bills today."

I had a lot of coin, so I began to count it out. I came up with $4.30. Too short.

"Well, okay, I'll have to break the twenty." she sniffed, and I handed over $20.90.

She counted my change back to me. "Three cents makes five, and five makes ten and ten makes twenty". In other words, she handed me $15.03 not the $16.03 I was due. I called her on it.

She tried again. "Three cents makes…oh! 90!" She scooped a dime out of the drawer and plopped it into my hand. "And 10 makes five and five makes twenty."

That was worse yet. I am no math genius. I was puzzled that she hadn't read it right off the digital machine. Then I guessed she was trying to short not only me but the till too.

"Look, " I said, "Just give me my $20.00 back. Cancel the sale."

She did and I left. It was hours later before I realized I had forgotten to ask for the 90 cents! But at least she didn't get me for $5.00.

Still wanting the Vitamin C, I decided to stop in at the health food store in the adjoining plaza. Strike 2.

The clerk was on the cell phone yakkity yak and didn't even look up as I entered.

I interrupted, "Where's the chewable C?" She gestured towards a shelf.

I looked and looked and never found it so I headed towards the door.

"Miss, Miss? Where you going?" she cried, now concerned that her money was walking away. "I can help you find it." She put the phone down and started to walk in my direction.

"Oh no," I said, peeved. "You'd better get back to your phone chat." And I hit the door and kept on walking.

Grrrrr.

Overall, it was a good shopping day. I did buy a nice sports bra and new ice cube trays at Target.

Pondering the customer service at the Vitamin C shops makes me think I should put on my new bra, make ice cubes in my new trays and dump the cubes into my bosom to cool myself down.
Saturday, June 25, 2005
Bye, Bye Constitution
Arnold Schwarzenagger was on Leno last night and Jay asked him about the supreme court decision that ends property rights.

Arnold said 94% of Americans think it's wrong. He said we must all work to overturn the decision.

Yes, that's it, I thought. Get out the vote and change things....

Wait a minute, didn't the supreme court take away my right to vote in 2000?
Friday, June 24, 2005
What happened to America?
Yesterday's supreme court decision destroyed america. No one has property rights any more.

The day will come when a developer wants this farm. All they will have to do is say to the local government, "Our shopping center/condos/gas station will give your town more tax money than that family farm."
And then, the supreme court says, the local government can come and put Mom and Pop off this farm.
Thursday, June 23, 2005
Wednesday, June 22, 2005
Nana's Ricotta Pie Recipe
Ricotta Pie

Crust:

1 Cup flour
1 Tsp. Baking Powder
pinch of Salt
4 Tsp. Sugar
½ of ¼ pound stick of Margarine
1 Egg

9" pie plate and preheat oven to 375°.

Sift together Flour, Baking Powder and Salt. Cream well, Sugar and Shortening. Combine Flour and Shortening mixtures until it has a mealy texture. Mix in Egg, and knead a little to bind all ingredients. Press mixture into a 9" pie plate and up the sides. Set aside.

Cheeze Filling:

1 Lb. Ricotta Cheeze
3 Eggs
¾ Cup Sugar
1 Tblsp. Cornstarch
1 Cup Milk
1 Tsp. Vanilla


Ricotta. Beat together Eggs, Sugar, Cornstarch, Milk, and Vanilla. Add Ricotta, and mix well. Pour mixture into prepared crust and put in 375° oven. Meanwhile, crush 4 whole Graham Crackers with ½ Tsp. Cinnamon. After 15 minutes of baking, sprinkle Crumb Mixture over top of the pie. Return pie to oven. Turn oven temperature down to 350°. Continue baking pie for 30 minutes more until knife inserted in center comes out clean. Cool. This is good just as it is but if you like fruit you can use can pie cherries on top.



PS I copied this exactly as it was written and given to me. Note the variation in "Tsp" and "Tblsp". I would double check those measurements against a standard recipe before I attempted to make it.
I have never made it, but I bet it's great!!
Tuesday, June 21, 2005
Happy Birthday Oscar Bluemner!
Monday, June 20, 2005
Wardrobe
Little Mind Escape is the one in the family who can always find clothing bargains. She'll snag the $80.00 designer shirt for 12.00 on sale.

But today it was me! Whoo Hoo!. I scanned the bargain rack at Dillards and got 2 dresses. $20.00 each!
Of course now I'll have to buy $80.00 shoes to go with, but what the hey!

PS. I had absolutely NO business buying the lime green dress (M.E. put me on color restriction), but I couldn't pass it up for $20.00.
Saturday, June 18, 2005
Running around
Lotsa running.
Thursday went to the training center to see Chuck about my running. If it were a pass fail exam, let's say I have to repeat a grade. Grrrr.

Friday was awfully hot so I spent the day indoors cleaning old clothes. I am never going to wear the pea jacket from my college days again so into the dumpster it went ...along with some other over due candidates.

Today I went over to Suzy's and met with her, Jeanine and Shelly about the wedding reception flowers. This is going to be fun. Jeanine has picked a beautiful color palette and traditional yet simple lines. Later in the afternoon Jake and I went to Lowe's and I started scouting plant materials.

Can't wait till tomorrow to give Plant Daddy his gifts...and Mind Escape will come over for supper,too.
Thursday, June 16, 2005
Possum Trot
There was too much excitement in the studio last night.

Around 11:30PM, I went to lock up the mosaic studio. Seeing that the south door was open (even though the screen door was shut), I turned on the light and started across the room to go lock the inside door.

That's when Mr. Possum got spooked and made a run for it.

He must have entered through the cat portal looking for the tray of Friskies until I interrupted his restaurant service.

He booked it right under my work table while I boogied back out the north door yelling, "Plant Daddy! Plant Daddy! Help! Help! Help!" or something like that.

Plant Daddy arrived post haste and grabbed a pitchfork.

"No!," I shrieked, "Don't kill it! It is a cute little baby one! Just get it out of the studio so I can work tomorrow."

Possums have nasty, nasty teeth. It is like a small land shark in terms of teeth.
Possums have a nasty attitude. It is like a small Mosaic Mom in terms of attitude.

Mr. Possum hunkered down and hissed where I store my finished mosaics. I did not want Plant Daddy to jerk a pitchfork around in close proximity to the art work. We decided to prop open all the doors and give Mr. Possum a chance to leave.

Ten minutes later, Mr. Possum was still admiring my mosaic flower pots and Plant Daddy was back to poking at it with the pitchfork. I was still doing a watusi dance from a safe distance.

"Get the Raid roach spray off my bench and spray him," I shouted. "That will get him to move". And indeed it did.

With Mom singing a little song of encouragement, Plant Daddy and Mr. Possum lapped the studio a few times until Mr. Possum finally exited the propped open south door.

What a relief…for now. Ultimately, we'll have to seal up the cat port or get a dog again or both.
Wednesday, June 15, 2005
Peace!
So much of what I saw at the Coverings trade show was 1960's style. Oranges and browns are coming back. Danish modern is coming back. Op art is around again.

Break out the macramé!

The Danish modern look inspired me. I came home and designed a 7 gallon flower pot in interlocking circles. I even used Mind Escape's pastel chalks to draw it out. I got my color palette all selected based on the Double Delight rose bush slated to live in this pot….and I couldn't do it. I couldn't face another flat work project.

A neighborhood visitor dropped over to snoop and add commentary while we were cleaning the mosaic art car. He said how much he disliked the shells on the roof. He thought the whole car was ruined by the beach look on top.

Now, I happen to love the shells on top. To me, the texture is awesome and I know from experience that Joe Difiore did an excellent job of composition with the shell roof. That roof was not a random application, there's a lot of work to get flow and balance into those materials.

Last week, I took a hose and a brush and "erased" the flat work Danish design and set to with sea shells. In its own way that's very '60's too. Now the design and application are making me very happy. I'm having a ball doing it…even tho it's 94 degrees in the shade and my hours in the studio are limited.

I did some preliminary grout on it last night. I'm held up today because I'm out of adhesive. I'll run out for some Liquid Nails and some glass frit. Fumes that'll get you high and pretty colors…that's '60's!

Peace, ya'll.
Monday, June 13, 2005
Sunday, June 12, 2005
Bridal Shower Tea Party
Bridal showers can be lots of fun.

There are always silly games. The food is totally sinfully sweet desserts. There is usually a sherbet flavored fruit punch. The gift wrap is more decorous than any Christmas package. The gift wrap sometimes outclasses the gift inside. It's great fun to see the Bride's reactions to the booty. What do you say after the 4th toaster…and that happened at a recent event!

This afternoon I went to one of the nicest Bridal Showers in my life. Linda King planned it for Jeanine Leclaire. Linda held it at a tea shop and the theme was afternoon tea.

All us ladies dressed. Let me pause here and tell you that I had not worn a dress in 2 ½ years. It felt really awkward at first, but it suited the tea shop just perfectly so I was glad I didn't give in to the urge to change back to slacks.

There were delicate flowers at each table. Real cloths and linens. Little tea cups and saucers…although I stuck with ice water in a plastic cup because it was a helluva hot day.

I just adored those perfect little tea sandwiches. There were cucumber sandwiches, chicken salad and egg salad sandwiches. Teeny tiny on white bread with no crust. Very delightful. The requisite sweets were there too, but I avoided the sugar coma this time.

The games were fun. There was a match game; a dress the Barbie doll bride with toilet paper contest; describe the bride's outfit after she left the room; list the items sewn onto the apron; draw a picture of the groom in his boxers; give the bride advice on a card and give the bride a recipe on a card. That is more games than usual. Hats off to the hostess.

Every guest got a party favor…I was thrilled with my 2 packets of seeds gift wrapped up nicely with a photo of the bride and groom to be. I had been wanting some Dill for my garden and there it was. One lady at our table was really thrilled with the bath salts she got.

In dismissing us, the hostess asked us all to pray for the couple from now till the wedding date. I had never ever seen that request at a shower and I was impressed with that statement of faith. She reaffirmed marriage as a sacrament and called on us as a praying community. Cool! And Amen!
Saturday, June 11, 2005
Raindrops keep falling on my head
It is raining all the time. The mortar won't set; the glue won't dry.

Time to take a break from mosaics and head to the mall.
Thursday, June 09, 2005
Just like last year
Déjà vu all over again!

We were supposed to have had another work group to clean the mosaic car last night, but the rain came down in buckets! Just like last year…is this an omen?

Instead of driving to town to mosaic with the committee, I stayed home when I heard thunder right before time to leave. Even though the car is under cover, you still get wet sitting on the driveway.

The storm howled from the north then it howled from the east. The lightning was fierce. It popped light bulbs in the living room and we thought it killed the refrigerator. It made a pitiful whining gasping noise, followed by silence. Fortunately, it just seemed to have knocked the fridge into the defrost cycle and it came back on later.

I had already taken the computer equipment off the grid and off the modem. That's a daily chore in Florida in the summer. I had also unplugged the wet saw and A/C in the mosaic studio. When the power surged through the living room, I scrambled to turn the house A/C off and unplug the microwave. I wished I had turned the pool pump off and I prayed it wouldn't get the well. We were afraid there might be hail that would pulverize Plant Daddy's Begonia, but fortunately, that didn't happen.

Therefore, the only Art Car work last night was to check on the bidding on e-Bay. There were 2 bids! Yabba Dabba Doo!

After the storm, we picked eggplants, tomatoes, cucumbers, bell, banana, and jalapeno peppers. I must pick green and wax beans ASAP. We will have okra tomorrow !

There is already a depression in the Gulf and the weathermen are eagerly dancing out the warnings. They say it will come ashore in the Panhandle as Tropical Storm Arlene this Saturday.

What really gets me was a small news story about a state biologist who studies turtle nesting in the Everglades. He says this year the turtles have moved their nesting sites way high, way high up the banks in anticipation of flooding.

I trust those turtles.
Wednesday, June 08, 2005
Mosaic News Items
Only 1 more tesserae (piece of jewelry) to attach and my second mosaic shoe will be tiled! Grouting on this one is going to be a B-I-T-C-H! There's entirely too much bling that will have to be taped. Oh well, gotta do it.

The Bissazza is in! The Christmas tree project is finally up next.

I have an appointmentat the National Training Center to work out a new exercise program for me. I am pleased to know that my tiredness/lack of heat tolerance/ leg cramps ain't me...it's the thyroid disease/side effects of Synthroid. I will find a way to work around it.

Speaking of finding a way around, since I haven't won the Lotto, I decided to play Fantasy 5 tonight. Wish me luck...I really need to recoup the 6 or 7 dollars I've wasted on Lotto tickets this year!
Tuesday, June 07, 2005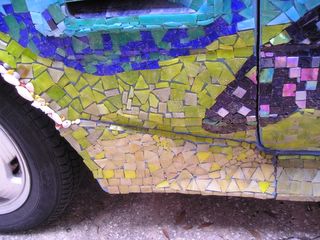 Glass applied with silicon held well; so did shells applied with liquid nails. Notice the sand sticking on the fender of the mosaic car

Monday, June 06, 2005
Mosaic car on e-Bay
Go take a look. The mosaic car we made last summer is now on e-bay...Rather than make a link, I'll give you directions...

1. Go to e-bay
2. Type in: Art Car Mosaic
3. Click on Search

4. You are there!
Sunday, June 05, 2005
Saturday, June 04, 2005
As the Mosaic World Turns
I am going to mosaic the universe...well, at least the solar system.

Today I went to Michael's and stocked up on 9 planets and one sun. I am going to mosaic them and put them in orbit as yard ornaments. I know you all can't wait for that one!

Tomorrow, I am joining the committee to wash the mosaic car. That should be an interesting morning. Pictures, too.
Friday, June 03, 2005
Yabba Dabba Doo and the Mosaic Shoe
Yabba Dabba Doo! Little Mind Escape got a job!!! I refer you to her blog for the details!

Most Saturdays, I forget to go buy my Lotto ticket. On Wednesday I was going to go buy one and play the mid-week game, but I forgot. Last night Plant Daddy and I were going to open the champagne to celebrate ME's job, but we forgot. This is terrible…we need to make a note in our day planners to remember to perform our vices.

I have worn out my first grind stone! Since shoes come in pairs (duh) I decided to mosaic the right foot shoe, having already done the left one. On leftie, I had problems with the grout cracking along the toe area. This time I decided to plaster righty to make a more stable base for mosaic application.

The plaster made a more solid base, but needed to be rubbed smooth. It clogged up my grind stone in no time, so I took the stone to the Z shop to clean it. I stuck it under the brush polisher machine, but I misjudged the power in the polisher. The wheel grabbed my stone and flung it to the concrete and broke it. Guess I have to get a new one.

The plaster made it easier to apply tesserae to the inside of the pump. However, the plaster flakes off of the patent leather on the outside. So I still don't have a good handle on this mosaic shoe business.

I am doing this shoe as an assemblage rather than in glass. My saw is getting a real work out, but I like the texture style so much better.
Wednesday, June 01, 2005
It's June 1st...
Do you have Pork n'Beans in the cupboard? Do you have a can opener? How about Sterno?

Yes, indeedy, it's hurricaine season again. And this year, few folks are ignoring it.Perhaps, just perhapr, people will buy a little extra supplies each week and avoid the panic rush once a storm gets announced.

I trucked up to Fred's Super Saver this afternoon. I didn't have it in me to go all the way to Publix. I only needed a few quick items.

But while in Fred's, I checked the bean stock. Bush's; Showboat; and Van Camp's...all in excellent supply quantities. Get 'em now.